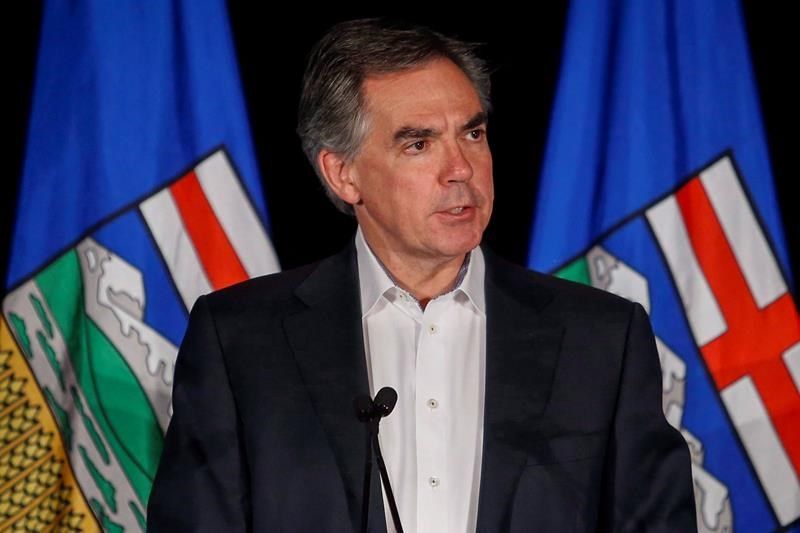 Former Alberta premier Jim Prentice was among the four people killed in a small-plane crash in British Columbia on Thursday night, CBC News has confirmed.
Prentice, 60, was aboard a twin-engine Cessna Citation that disappeared from radar shortly after takeoff from Kelowna, en route to the Springbank Airport, just outside Calgary.
Bill Yearwood, who's with the Transportation Safety Board, confirmed Friday that the plane's wreckage was found near Winfield, B.C., and described the crash as "unsurvivable."
"The aircraft is destroyed; all persons on board lost their lives," Yearwood said.
Prentice served as Alberta premier from September 2014, when he won the leadership of Progressive Conservative Party.
In February 2015, Prentice discussed the challenges facing his province and the country at large in the wake of plunging oil prices in an extended interview with Peter Mansbridge.
In May 2015, the PCs were handed their first electoral defeat in nearly half a century, at the hands of the Alberta NDP, and Prentice resigned as both party leader and MLA.
Before becoming premier, he served as vice-chair and senior executive vice-president with CIBC from 2010 to 2014.
Prentice also had a career in federal politics. He served as MP for Calgary Centre-North from 2004 to 2010, with stints as industry minister, environment minister and minister of Indian affairs and northern development in Stephen Harper's cabinet.
This June, Prentice became an energy adviser with Warburg Pincus, an international private equity firm.
Passion for politics
But politics was a passion for Prentice.
He started working for federal and provincial parties at age 20, mostly in backrooms, before stepping into the spotlight himself later in life.
Apart from one failed run for provincial office in 1986, he said he had an agreement with his wife Karen to wait until their three children were grown before venturing into the rigours of elected life.
But long before he would hold political office, Prentice was a boy who grew up "under the bins" of a Crowsnest coal mine.
Prentice, as a university student, worked seven summers underground in choking dust and heat, and among deafening machinery.
Ontario roots
Prentice was born on July 20, 1956, in South Porcupine in northern Ontario.
His dad, Eric Prentice, was a gold miner and former pro hockey player, a 17-year-old whiz-kid winger and the youngest player ever signed by the Toronto Maple Leafs. He was a career minor leaguer, but had a minor stint in the big leagues — playing five games with Toronto in 1943.
As the gold mine dwindled, Eric Prentice picked up his family in 1969 and moved to a new coal mine in Grande Cache, Alta., when Jim was 13, and eventually to the mines further south in the Crowsnest Pass.
Hockey-wise, Jim Prentice became a top-flight winger in his own right, but his promising junior career ended with a devastating knee-on-knee hit.
From then on, he focused on university, graduating with a law degree and working in Alberta as an entrepreneur and a lawyer dealing mainly with land and property rights.
Conservative reunification
After his failed 1986 bid for provincial office, Prentice wouldn't take a political run again until 2002, when he earned the PC nomination in Calgary Southwest, but later withdrew as a byelection candidate.
The federal conservative movement was in turmoil at the time, fractured between the PCs and the Canadian Alliance.
Prentice urged reunification and stepped aside so that then Alliance Leader Stephen Harper could run unopposed to represent the centre-right.
In 2004, at age 47, he finally grabbed the brass ring, winning the Calgary riding for the newly merged Conservative Party.
In 2006, Harper won a minority government and Prentice was in cabinet. Over the following six-plus years, he was given high marks for his work in diverse portfolios — in the ministries of Indian and Northern Affairs, Industry, and Environment.
But the defining moment, he said, came before his cabinet days, when the Conservatives were still the Opposition in 2005.
Prentice decided to vote for a controversial Liberal bill endorsing same-sex marriage.