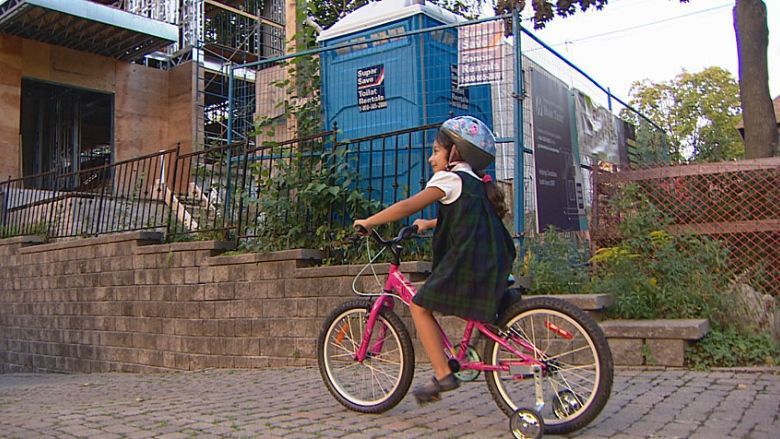 Lakshmi Kotra and his family have been living next door to a porta-potty for two years, and City of Toronto officials are telling him that nothing can be done about it.
Kotra lives at the end of New Haven Drive, a small, leafy street near Bathurst Street and Eglinton Avenue West. Two years ago, his neighbour started building a new home, and with the construction work came a bright blue porta-potty placed right at the foot of his driveway.
Kotra, an infectious disease expert who lives with his wife, daughters and parents, said the toilet often emits a foul smell, and he's worried about how clean it is. Other neighbours have also complained about the smell.
"My kids can't come out, my parents sometimes want to come out and sit in our front yard," Kotra told CBC News. "They can't do that, because it constantly smells."
Kotra said he's been in touch with three city departments — building standards, municipal licensing and standards, and property standards — who have all told him nothing can be done about the toilet so long as it's on his neighbour's property. There are, simply, no bylaws about where porta-potties can go.
"I was flabbergasted," he said.
"If the city, with authority, can't do anything about it, we as residents obviously can't do anything except feel aggravated about it."
While the city has no regulations when it comes to worksite porta-potties, Ontario's Labour Ministry does. It requires any jobsite with up to 15 workers present to have at least one toilet.
However, the Occupational Health and Safety Act's construction regulations also state that toilets should be "serviced, cleaned, and sanitized as frequently as necessary to maintain them in a clean and sanitary condition."
It's unclear when work on the house next door to Kotra will be finished.
Heat may be making it worse
Coun. Christin Carmichael Greb, who represents the Eglinton-Lawrence ward, said the recent heat may have exacerbated the smell coming from the toilet, but added residents shouldn't be losing the enjoyment of their own property.
Greb said she's asking city officials if there's anything that can be done to help Kotra and his neighbours.
"If there is nothing in place that protects residents from something like this, I think there should be," she told CBC News.
"People should not have to live like this."
Greb said the city could consider requiring toilets be kept a certain distance away from other homes, or that they be more contained within a construction project.