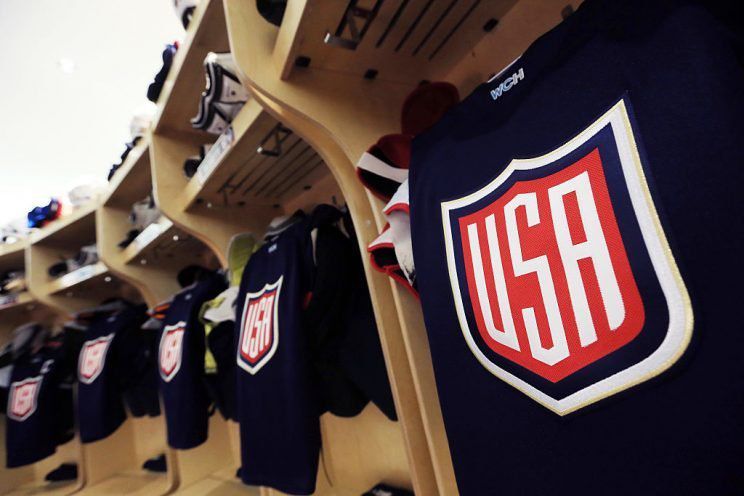 A purge of players, as the leadership core of Team USA got its last kick at the can against Canada and instead fell on its collective ass.
A purge of the coach, hired for flimsy reasons and presiding over a roster that fit an archaic dogma that treasures nebulous attributes like "grit" and "compete" over actual skill and talent.
A purge of the philosophy that led to the hiring of that coach, a philosophy that left goal-scorers and strong defenders back home because of petty concerns, unmerited loyalty to veteran players and an unwavering commitment to building a blue-collar team to act as Canada's collective punching bag.
Team USA's 4-2 loss to the Canadians on Tuesday night in the World Cup was the final shovel of dirt on this group. They lost the game to their arch-rival and lost any chance to advancing to the World Cup semifinals. The United States of America will play a meaningless game against the Czech Republic to end group play on Thursday night. Team Europe, which was literally invented last year, will instead advance along with Canada.
This is humiliating. Completely humiliating. For the players, like Ryan Suter: "I feel like we let our country down. We let ourselves down. To be out after two games is extremely disappointing," he said after the loss.
For the fans, who once again must genuflect to their Canadian brethren. For ESPN, which crowed about the return of the NHL and aired what amounted to 60 minutes of apathetic Americans flinging shots and Canadians poking a dead carcass with a stick.
It's humiliating when goal-scorers who were left home snark about the team that snubbed them:
Just sitting around the house tonight w my dog. Felt like I should be doing something important, but couldn't put my finger on it.
It's humiliating when other USA Hockey players are thankful they're physically unable to join this collection of losers:
Really glad I was born without legs. The US sled team has a much better track record of success than the US stand up men's team….

— Josh Pauls (@spudsusa27) September 21, 2016
It's all just humiliating.
We saw on the ice what the Americans inherently know in their hearts, which is that this group doesn't belong in the same conversation with the Canadians. Yes, in 2010, Team USA was one goal (or Ryan Miller save) away from beating them on their home ice for Olympic gold. But that group was mentally prepared to hang with them after their win in preliminaries, and we haven't seen that confidence since.
In 2014, in Sochi, the Americans came into their semifinal against Canada looking like their equals, and then played a subservient game against an opponent they sensed was significantly better. The 1-0 loss felt like 100-0.
Then, in this World Cup, the Americans entered their showdown as underdogs, as unequals and then acted the part when Canada scored three quick goals in the first period. With no margin for error, they gifted a superior team goals. It was literally the thing they couldn't do to have a prayer against Canada.
"We blow up, self-inflicted, and they surged, and we had no answer," said coach John Tortorella. "We kept trying to catch up the rest of the game and just couldn't get it done."
And neither did their coach.
***
Tortorella's hiring as Team USA coach was problematic from the start, and not just because his introductory press conference was hijacked by prank callers: Read more