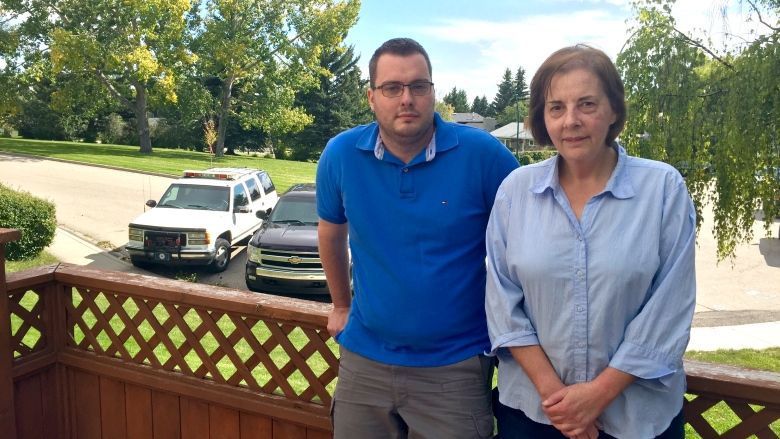 Some neighbourhoods protest against low-income housing, while others take offence to transit projects. But in Brentwood, it's new trees that are raising the ire of some residents.
The city wants to plant 15 new trees in a small nameless park surrounded by houses in this northwest community, but its efforts were stopped by unexpected resistance after getting only eight in the ground.
Ellen Burgess has been going door-to-door in the area because she thinks more trees could mean more crime.
- EXCLUSIVE | Calgary's use of networked security cameras nearly doubles in 5 years
If you give people more places to hide, more naughty things will be done," she said.
Burgess worries about more "urban campers" and car prowlings, and said she's frustrated she wasn't consulted by the city.
"We've had our urban campers here and people using the trees and the bushes as their own personal toilets, and why do we want to give them more places to do that?" She said.
'Yelling and swearing'
Her son, Ian Burgess, who lives with his mom and said he calls the police about every three months for issues like car prowlings or people setting off fireworks, said some residents were yelling and swearing at city crews to stop planting the trees.
Resident Steve Watt is also ticked about the new greenery coming into his community, and thinks the city should be spending money elsewhere.
"We think there's enough in the park now," he said.
He wasn't around for the showdown with city crews, but he and his wife Victoria oppose the project, which is part of the ReTree YYC program.
"It just seems to clutter it up," Watt said.
His wife said drug paraphernalia has been found in the bushes and worries about more teenagers drinking in the park.
"It doesn't happen very often, but it does happen," she said.
Support for the trees
Andria Dawson, a member of the community association, has a different view of the situation. She said the city asked the association about the trees months ago, and she thinks the city is doing a great job of communicating with residents.
"If you're so concerned about things like that then you should get more involved in the community association or through city volunteering programs," she said.
"I definitely do not think that yelling at city workers is a great way to change the outcome."
"The more this looks like a forest, the better a place to play," she said.
She and her husband are disappointed the planting was stopped.
No one from the city was available for comment.
- MORE CALGARY NEWS | 'It is just instantly something that we have in common': police and Syrian youth tie in soccer match
- MORE CALGARY NEWS | Labour Day marks end of 'awful' Calgary summer